Spectralight's PulseDrive allows you to cheaply, easily and instantly, convert your existing Laser Messiah, laser helmet into a pulsed laser helmet. Just plug your Laser Messiah into PulseDrive and our Spectralight power adaptor and you're done!
Spectralight's PulseDrive Technology
Spectralight specialises in the development and manufacture of pulse width modulated (PWM) laser drivers, designed to leverage the latest research into Low Level Laser Therapy (LLLT) and maximise the biostimulation benefits of LLLT through the use of pulsed lasers.
Spectralight's PulseDrive technology has been developed in conjunction with WorldHairLoss.org specifically for the Laser Messiah® laser helmet. PulseDrive is an affordable, high powered, pulse width modulated laser driver designed to deliver laser pulsing technology for your Laser Messiah® laser helmet. PulseDrive is capable of pulsing a single 5mW 3Volt laser or up to as many as five hundred 5mW 3Volt lasers! PulseDrive delivers commercial grade laser drive capability in a simple to use, low cost, home use device!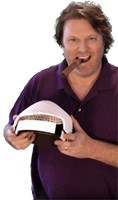 John Christian aka"OverMachoGrande" said the following about PulseDrive:
"I tested the PulseDrive for a while during the testing phase, and I found it to be simply phenomenal. Seriously, I had my mouth open... I had at least as much stimulation (and I think WAY MORE "PUMP") as I had when I first started using my helmet four years ago - which leads me to believe that FIGHTING ACCLIMATION might be one of the long term goals here, which can be done by simply cycling through different frequencies every few months."
**PulseDrive has been designed to operate with 3.2Volt Aixiz laser modules as recommended by OverMachoGrande
---